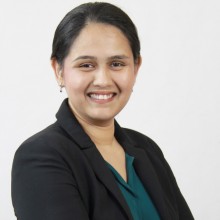 Saudamini Dabak
Head of International Unit (HIU)
Thailand
Health Intervention and Technology Assessment Programme (HITAP)
Biography
Saudamini Dabak is the Head of HITAP's International Unit (HIU). She started working at HITAP as an Overseas Development Institute (ODI) Fellow in 2015. At HITAP, Saudamini has supported Health Technology Assessment (HTA) initiatives in Asia and Africa and has also been involved in conducting health systems research. Prior to working at HITAP, Saudamini worked at the World Bank Group. She completed her Master of Arts from the Johns Hopkins School of Advanced International Studies (SAIS), USA, and holds a Bachelor of Arts in Economics from St. Xavier's College, University of Mumbai, India.
No answer at the moment.
No related question at the moment.