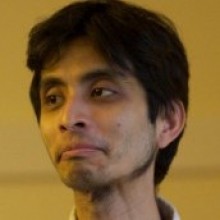 Mark Jit
Professor
United Kingdom
London School of Hygiene & Tropical Medicine, UK
Biography
Mark Jit is professor of vaccine epidemiology at the London School of Hygiene & Tropical Medicine (LSHTM). His research group focuses on epidemiological and economic modelling of vaccines to support evidence-based public health decision making around the world.
7 Answers
6 related questions found.
Hello there, I am Amanuel from Ethiopia. I am conducting a thesis paper in cost effectiveness of HIV testing modalities and assisting others in economic evaluation. In my work, we conduct our research using decision tree modelling and Markov modelling. How should DALY be used for decision tree model...
Asked: 31 Jul 2018
| 1334 | 3 answers
Hello there. I am conducting a thesis on CEA. my outcome report is in cost per HIV positive client identified. The WHO threshold recommend GDP per capita compared with cost per DALY averted. I saw one study report their finding in cost per positive client identified and compare it with the country'...
Asked: 21 Aug 2018
| 1225 | 3 answers
Hi, I am developing my thesis proposal and would like to measure the health and economic benefits of a the government programme known as managed equipment services vide: http://www.uncitral.org/pdf/english/congress/Papers_for_Congress/61-OLOTCH-Managed_Equipment_Services_for_Sustainable_Development....
Asked: 29 Dec 2018
| 3952 | 3 answers
Dear Expert, I have values for both the incremental cost and incremental DALY/QALY. How do I put them on cost-effectiveness plane or how do I plot them in graph, so that I get nice graph showing ICER result on cost-effectiveness plane? number 2: I have all the values from PSA. How do I put them in ...
Asked: 05 Jun 2019
| 1118 | 2 answers
Dear all, I am having some difficulties in the calculation of capacity to pay to estimate catastrophic health expenditure. These were the steps I followed in Stata 16. ****Capacity to pay calculation********* STEP 1: Generate the food expenditure share (share_FE_CTP) for each household by dividing...
Asked: 18 Sep 2019
| 792 | 1 answer
Dear Dr and Prof, I'm trying to find probability parameters for my model of chronic hepatitis B. However, most study I found come from observational studies, with different duration of follow-up . In my model, I need the probability and the parameters for beta distribution (alpha, beta). And I don'...
Asked: 29 Feb 2020
| 749 | 3 answers